Industrial & Commercial Water Purification in Cincinnati, OH
For the best quality water, the choice is Ultra Pure Water Technologies. We specialize in the sale, design, installation, maintenance and service of commercial, industrial and medical water pre-treatment and filtration systems throughout Cincinnati, Springdale, and Hamilton County, OH and beyond, including Northern Kentucky. We offer water softeners, water filter replacements, carbon filtration, reverse osmosis, deionization and more.
We Design, Install and Service Water Filtration and Commercial Water Treatment Systems for:
Dental Offices
Car Washes
Distilleries
Laboratories
Surgical Preparation Facilities
Dialysis Treatment Facilities
Industrial Water Treatment Systems & More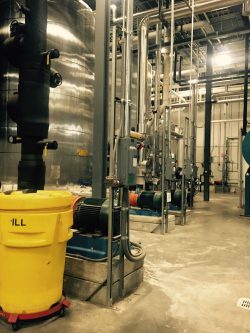 When your commercial or industrial business demands pure water, turn to Ultra Pure Water Technologies for a fully customized solution. We're the leading experts in commercial and industrial water purification in the greater Cincinnati, OH area, the entire state of Ohio as well as Indiana, Kentucky, Illinois, West Virginia, North Carolina, Tennessee and more with the capabilities to design, install, service and repair filtration and purification systems for a wide breadth of businesses.
Our expert team takes pride in working with customers to fully understand their water quality needs—then, we tailor a solution that meets those needs. Whether it's implementing the right type of system or creating a fully-custom solution, we go the distance to ensuring total industrial and commercial water purification in Cincinnati, OH.
Our scope of capabilities is wide-ranging, and we take pride in working in tandem with businesses of all types. Our specialties include water softening and RO systems.
We can even meet the stringent demands for water quality set down by medical, lab and pharmaceutical facilities! Because we assess every customer's unique needs from the outset, we can quickly narrow the scope of commercial and industrial water treatment systems down to a perfect solution.
And, once your system is in place, you can always rely on our team to keep it in full working order. We provide 24-hour a day, 7 days a week emergency service for repairs if necessary. See for yourself why we're the number one choice in Cincinnati, OH for industrial water treatment systems.
See for yourself why we're the
number one choice for commercial water treatment systems in Ohio!
We're members of the Water Quality Association (WQA).
Our products and services extend to commercial, industrial and medical customers.
Our service area encompasses the entire state of Ohio, as well as Indiana, Kentucky, Illinois, West Virginia, North Carolina, Tennessee and more.
Our family-owned and –operated company is backed by more than 30 years of professional experience.
We offer free estimates on all products and services.
Experience Exceptional Service and Expertise

To explore the many water softening and filtration solutions Ultra Pure Water Technologies has to offer, get in touch with one of our expert professionals today.
Proudly offering industrial water purification or commercial water treatment systems to the following areas:
Ohio
Indiana
Kentucky
West Virginia
Western Pennsylvania
Plus More